Warning
: mysql_query(): Access denied for user 'hmhost'@'localhost' (using password: NO) in
/home4/hmhost/public_html/wp-content/plugins/maxblogpress-ninja-affiliate/ninja-affiliate-library/include/mbp-ninja-affiliate.cls.php
on line
198
Warning
: mysql_query(): A link to the server could not be established in
/home4/hmhost/public_html/wp-content/plugins/maxblogpress-ninja-affiliate/ninja-affiliate-library/include/mbp-ninja-affiliate.cls.php
on line
198
Warning
: mysql_num_rows() expects parameter 1 to be resource, boolean given in
/home4/hmhost/public_html/wp-content/plugins/maxblogpress-ninja-affiliate/ninja-affiliate-library/include/mbp-ninja-affiliate.cls.php
on line
199
Warning
: mysql_query(): Access denied for user 'hmhost'@'localhost' (using password: NO) in
/home4/hmhost/public_html/wp-content/plugins/maxblogpress-ninja-affiliate/ninja-affiliate-library/include/mbp-ninja-affiliate.cls.php
on line
184
Warning
: mysql_query(): A link to the server could not be established in
/home4/hmhost/public_html/wp-content/plugins/maxblogpress-ninja-affiliate/ninja-affiliate-library/include/mbp-ninja-affiliate.cls.php
on line
184
Warning
: mysql_num_rows() expects parameter 1 to be resource, boolean given in
/home4/hmhost/public_html/wp-content/plugins/maxblogpress-ninja-affiliate/ninja-affiliate-library/include/mbp-ninja-affiliate.cls.php
on line
185
Warning
: mysql_query(): Access denied for user 'hmhost'@'localhost' (using password: NO) in
/home4/hmhost/public_html/wp-content/plugins/maxblogpress-ninja-affiliate/ninja-affiliate-library/include/mbp-ninja-affiliate.cls.php
on line
184
Warning
: mysql_query(): A link to the server could not be established in
/home4/hmhost/public_html/wp-content/plugins/maxblogpress-ninja-affiliate/ninja-affiliate-library/include/mbp-ninja-affiliate.cls.php
on line
184
Warning
: mysql_num_rows() expects parameter 1 to be resource, boolean given in
/home4/hmhost/public_html/wp-content/plugins/maxblogpress-ninja-affiliate/ninja-affiliate-library/include/mbp-ninja-affiliate.cls.php
on line
185
Warning
: mysql_query(): Access denied for user 'hmhost'@'localhost' (using password: NO) in
/home4/hmhost/public_html/wp-content/plugins/maxblogpress-ninja-affiliate/ninja-affiliate-library/include/mbp-ninja-affiliate.cls.php
on line
198
Warning
: mysql_query(): A link to the server could not be established in
/home4/hmhost/public_html/wp-content/plugins/maxblogpress-ninja-affiliate/ninja-affiliate-library/include/mbp-ninja-affiliate.cls.php
on line
198
Warning
: mysql_num_rows() expects parameter 1 to be resource, boolean given in
/home4/hmhost/public_html/wp-content/plugins/maxblogpress-ninja-affiliate/ninja-affiliate-library/include/mbp-ninja-affiliate.cls.php
on line
199
Warning
: mysql_query(): Access denied for user 'hmhost'@'localhost' (using password: NO) in
/home4/hmhost/public_html/wp-content/plugins/maxblogpress-ninja-affiliate/ninja-affiliate-library/include/mbp-ninja-affiliate.cls.php
on line
184
Warning
: mysql_query(): A link to the server could not be established in
/home4/hmhost/public_html/wp-content/plugins/maxblogpress-ninja-affiliate/ninja-affiliate-library/include/mbp-ninja-affiliate.cls.php
on line
184
Warning
: mysql_num_rows() expects parameter 1 to be resource, boolean given in
/home4/hmhost/public_html/wp-content/plugins/maxblogpress-ninja-affiliate/ninja-affiliate-library/include/mbp-ninja-affiliate.cls.php
on line
185
Warning
: mysql_query(): Access denied for user 'hmhost'@'localhost' (using password: NO) in
/home4/hmhost/public_html/wp-content/plugins/maxblogpress-ninja-affiliate/ninja-affiliate-library/include/mbp-ninja-affiliate.cls.php
on line
184
Warning
: mysql_query(): A link to the server could not be established in
/home4/hmhost/public_html/wp-content/plugins/maxblogpress-ninja-affiliate/ninja-affiliate-library/include/mbp-ninja-affiliate.cls.php
on line
184
Warning
: mysql_num_rows() expects parameter 1 to be resource, boolean given in
/home4/hmhost/public_html/wp-content/plugins/maxblogpress-ninja-affiliate/ninja-affiliate-library/include/mbp-ninja-affiliate.cls.php
on line
185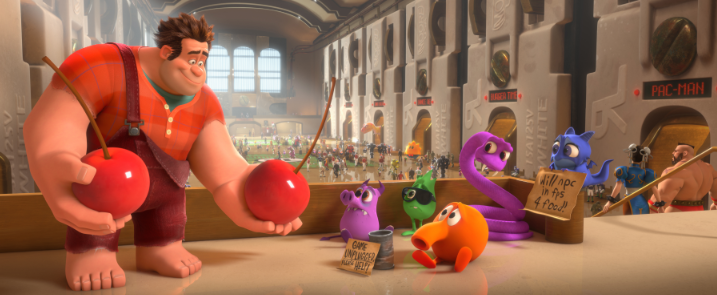 Wreck-It Ralph (voice of John C. Reilly), the "bad guy" in the, fictional, arcade game Fix-It Felix is tired of watching all of the glory and accolades go to Felix (voice of Jack McBraye) the "good guy". He strikes out on an arcade game hopping adventure to try to prove to Felix and the others that he has what it takes to be a true hero. During his arcade game hopping he runs into Sergeant Calhoun (voice of Jane Lynch)  from Hero's Duty and a peppy glitch named Vanellope von Schweetz (voice of Sarah Silverman) from the candy themed racing game Sugar Rush which is put in danger with Ralph's arrival.

As a child of the 80s and huge fan of arcade and video  games I loved this movie. It was full of cameos from real life arcade classics, including an out of work Q-Bert. Although not viewing it with the same arcade game loving eyes, my kids enjoyed it too. The story line was engaging and the movie action packed. The rendering of their public transit hub, Game Central Station, was one of my favorite things. The animators were really able to bring the various games and landscapes to life.
For me Disney's new movie Wreck-It Ralph is a must see, it really does have something for everyone, not just gamers.