Contact Form Shortcode Error: Form 2 does not exist
I'm starting a new feature here at Harmonic Mama where you can "Ask the Educator" any burning questions you may have. In our first installment we have a question about how to encourage your child to read. The answers will appear here on Harmonic Mama on the last Thursday of every month. Our contributing educator this month is Amanda Lehrman, from The Momma Files. If you have a burning question for her we'd love to hear it, please complete the form below.
I've just been grappling with something this week, not sure if it is too basic for you. My preschooler absolutely loves to "read", but I'm not sure how to make the leap from reading to her to helping her read. She knows letters and sounds, no problem. We used to sound out the letters, but she seems to get immediately frustrated by this. I know it will come in school, but she actually seems ready now. What are the right ways to encourage her to try to read?

Darla DeMorrow – http://www.HeartWorkOrg.com
Answer: No question is too basic when it comes to a child! Knowing letters/sounds is the foundation of reading, otherwise known as phonemic awareness. If she has those tools under her belt, she is well on her way to mastering the concept of phonics, which means putting those sounds together. Reading is a developmental process, it takes time. Keep the control in her hands, put the books down and pick up your hands! Basic words such as cat, hat and bat can be learned together since they rhyme and have the same spelling pattern. Make it a game and clap it out. For example: tell her you are playing a game and she has to guess the word you are sounding out. Clap the sound for /c/, /a/, /t/ and ask her to guess what word you sounded out. If she guesses it, use a piece of poster paper and write the word "cat". Then ask her to do the same. Clap out the three separate sounds: /c/, /a/, /t/ and then say "cat". Repeat with "bat", "cat", "hat", etc. Record them all on the poster paper as she learns them. The next day, refer to the poster. Has she remembered the words? Practice again even if she did to reinforce. Move on to other patterns such as "can", "pan" and "man". You will build up a poster of several words that she can refer to and soon she will notice them in books. You can get simple books for beginning readers at any book store or on-line. Many of these books are pattern books meaning that only one or two words changes per page. For example: This is a kitten. This is a dog. Your daughter will learn "this" and "is" and be able to determine kitten, dog through the pictures. Readinga-z.com is a great site to reference as well.
---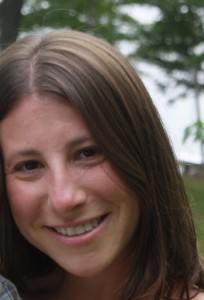 Amanda Lehrman graduated from University at Buffalo with a B.S. in Business Administration and worked in the advertising and online marketing field. After two years, she attended Fordham University and received an M.S.T in Elementary Education. For the first four years of her teaching career, she taught first grade gifted and talented and in her fifth year she taught Kindergarten. After 5 years of classroom teaching, she chose to expand her educational career and became a curriculum consultant for Kaplan K12 Learning Services. After her work with Kaplan, she became a team member of Catapult Learning. She planned professional development for schools in various states and designed programs appropriate with Title 1, Title IIA, ARRA and IDEA guidelines and funding. All of these opportunities, both inside and outside of the classroom have inspired her to continue to educate students and share her thirst and passion for knowledge with schools, families and day-care providers. As an educator and mother, she believes that anyone can enhance a child's education by doing simple, engaging activities that will instill a love of learning that lasts forever. You can read more by Amanda at www.themommafiles.com.
What would you like to Ask the Educator?